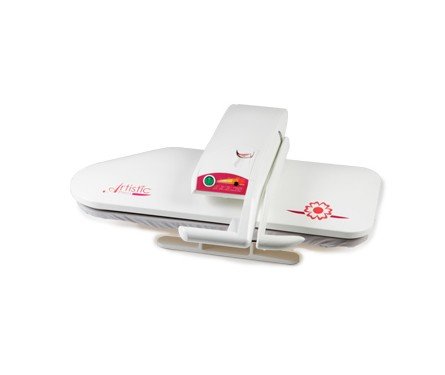 Artistic Ep100
100lbs of pressure, Peraluman heating shoe material, Mechanical Temperature control
system. Press up to 8 layers at once. Electronic safety power shuts off after 10 seconds in
closed position.
Features and Benefits:
Time Saving: Ironing surface is ten times larger, and you get twice as much done!
You can press up to eight layers at once!
Less Effort: The Artistic Press can be used while seated comfortably and applies 100 lbs. of pressure, compared to 20 lbs. of regular irons
Professional Results: Less wear and tear on fabrics and no shiny effects.
Great Value: Excellent price for a Swiss-designed, full size, high quality press
Safe: Electronic safety power cut shots off after 10 seconds in closed position - no scorched laundry!
Quality Materials: Board is made of 11 layers of Baltic Birch wood to absorb excess humidity
Video(opens in a new window): http://youtu.be/MC6kFo6jyio