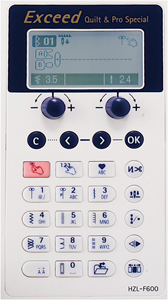 Direct Pattern Selection
One touch pattern selection to quick start your sewing adventure. Simply push a button to select from 10 of the most popular sewing patterns, including the applique stitch and the blanket stitch.
The Keypad is set up similar to your cell phone allowing you to quickly select lettering.




The LCD screen displays the stitch settings, pattern and even recommends the best presser foot to use.
Need to adjust the stitch length and width? Just turn the dial and the new settings display on the screen.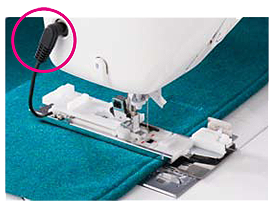 Electronic Buttonholes
Professional buttonholes have never been easier!
The Juki Exceed series bring industrial style, perfectly balanced sensor buttonholes to home sewing.
With 16 buttonhole styles to choose from, you'll always have the prefect buttonhole for any fabric.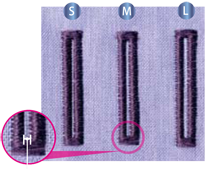 Adjustable Cutting Widths

Juki does it again! Now you can adjust the width of the buttonhole without increasing or decreasing the stitching size.
This allows you to have thin or wide buttons, adjust buttonholes for thick or thin fabrics, and still have stable strong buttonholes.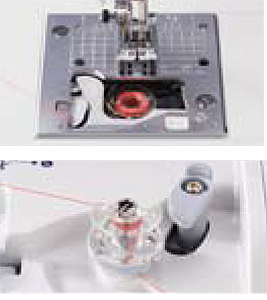 Quick Thread Bobbin Case
Inserting the bobbin into the bobbin case is fool-proof…just follow the clearly marked threading path and you are ready to sew.
You never have to worry about bringing the thread to the top again!
Independent Bobbin Winder

Allows you to sew and wind bobbins at the same time.

And bobbin winding couldn't be easier. Put the bobbin in place, catch the thread on the base, and push the lever.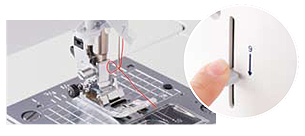 Quick Threading System
The automatic needle threader, threads the needle with just the push of a lever.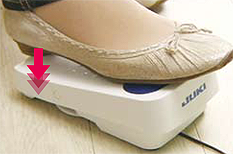 Exclusive Advanced Thread Trimming
The Exceed series allows you to trim top and bobbin threads three ways: With a push of a button, automatically programmed trims and with the Exclusive foot controlled trimming system.
Just rock your heel back on the foot controller, and your thread is quickly and precisely cut.